Choosing the right length not only increases the density, volume, and thickness of your natural and real hair but also increases your beauty and confidence. But how to choose the right length? JuliaHair provides this guide to the length bundles of hair to help you learn how to measure and choose them.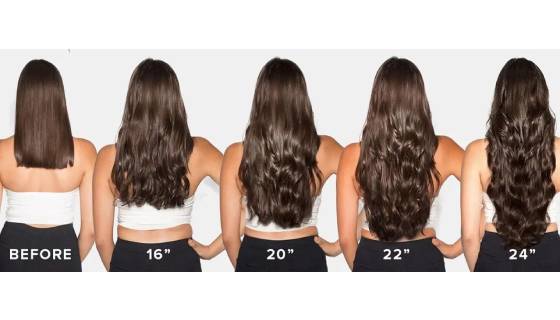 What Factors You Should Think About?

1. Texture

Choose hair bundles according to the texture of your hair. If your hair is straight or curly, avoid using curly hair bundles, because they won't blend with curly hair and may even be difficult to care for.
Now, this is not to say that if you have straight hair, you can never wear curly hair, but you need to add a lace seal or a lace front.

2. Color

You can find hair bundles in various colors and shades. Unless you want a gradual or dramatic look, it's best to stick to hair extensions that match your hair color as much as possible.

Unless you happen to dye your hair in a bright color, it will be nice to dye your hair bundles in a color that matches it, because even if the hair color is not natural hair color, the hair will blend seamlessly.

3. Head Circumference Size

Most head circumference is 21"-24 "inches. Whether your head is bigger or smaller, you need to adjust the number of bundles purchased to suit this situation.

All bundles weigh about 100g.

4. Front or Closure

If you want to match the hair bundle with the closed or front, consider 4x4,5x5 inches. Any style you are considering needs to use at least two straps.

5. Height

If you are tall, you may choose a long hair bundle suit; And if you are petite, you can choose 16-18 inches or shorter.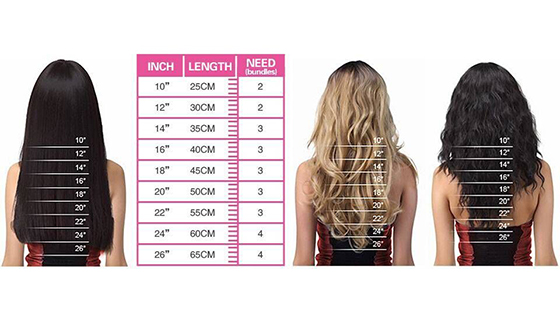 The hair length should be from the head top to hair bottom as the hair is straight status.The curly and wavy hair is processed from straight hair. Fro the same length,curly and wavy hair would be 1" - 2" shorter than the straight hair, which depends on how curly the hair is.

①The length of 12-14 inches is the shortest, and it is often located at or under the shoulder, so if your natural hair is short, it is perfect.

It is also very suitable for just adding thickness and strands to make them look super thick and healthy.

②16-18 inches medium length, so if your hair is about shoulder length, it is perfect. This suit is located just above your bust.

③20-22 inches. This length is most suitable for hair longer than shoulder length, and it is often located below the bust in most people.

You can choose the same hair length according to the above method, or you can choose hair bundles by combination. Here are some contents of the combination.

How do I decide which length combination to buy?

If you want a fairly natural look, you can choose the hair size in ascending order, such as 14 and 16; 16 and 18. In this way, the layered effect can be obtained, and different sizes of hair can also be choosed.

If you're not sure, it's always a good idea to set your hair longer, because it can be trimmed or designed shorter.
Generally, we recommend that you keep your natural hair within two inches to get the most credible blending effect.

Furthermore, if you are not sure how long to order, please contact us, and we will be happy to advise you.